Brits move abroad for a better quality of life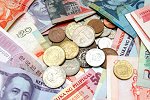 Brits move abroad for a better quality of life
A new study by Lloyds TSB International show that close to a third of British expats have made the move overseas to take advantage of better job opportunities. This is a marked increase on the 27 per cent who said the same in February last year.

Over the past 18 months the economy in the UK has remained flat with unemployment
hovering around 2.5 million. Although inflation remains steady at 2.7 per cent the average growth in earnings is just 1.5 per cent. The state of the economy is a top reason for Brits choosing to move abroad.

An improvement in the quality of life offered overseas is another major reason for expats choosing to flee the UK.

According to the study 79 per cent of respondents who have made the move to a new country are enjoying a better financial situation compared to 67 per cent who admitted the same just 12 months ago.

Nearly half (48 per cent) said they had left the UK to gain a different life experience. The same number said they had left Britain in order to provide a better quality of life for their family. A shared language also appears to be important for people moving away from the UK with the US, Canada and Australia remaining the most popular destinations.