Granny tax could drive pensioners abroad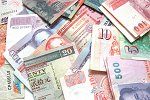 Granny tax could drive pensioners abroad
George Osborne's much debated 'granny tax', which sees pensioners' personal tax allowances being frozen, could lead to more retirees considering a move overseas, claim a number of property experts.

As reported by aplaceinthesun.com, the latest Inland Revenue figures revealed that the Chancellor's tax alterations will leave more than four million people being an average of £83 per year worse off than they currently are in 2013-14. Of that number, 360,000 people aged 65 are set to be £285 per year worse off on average.

Property Direct Finance's international director Danny Silver said that with benefits axed and UK pensioners looking to safeguard their retirement funds from the government, more Brits will be considering retiring in countries where they will face lower taxes. He added that France continues to offer a great escape.

With pensioners' incomes falling, the appeal of living in a country which offers lower living costs will prove an extra incentive, claimed HomesGoFast.com. The website stated that the costs of living are often cheaper abroad. It explained that food and restaurants are roughly 20-30 per cent less expensive than they are in Britain, adding that as the incomes of pensioners drop, they will be aiming to make their money last longer by moving abroad.