UK workers look to move abroad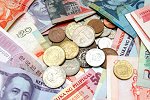 UK workers look to move abroad
Thousands of well-off UK citizens which the country cannot afford to lose are thinking about emigrating overseas in search of a better life, reports the Daily Telegraph.

Research carried out by the newspaper shows that 19 per cent of Brits with more than £250,000 in investments and savings, excluding property, are thinking about leaving the country within the next two years. The figure has gone up from 14 per cent at the same time last year and 17 per cent six months ago.

The UK's high cost of living, the weather and crime are the most common answers as to why people want to move abroad. By comparison, affluent Brits say that lowering taxes, cutting regulatory 'red tape' and improving infrastructure are ways of making the country more attractive.

Fear of crime increased during the riots last August, while the cost of living continues to go up as the economy struggles. People appear to have grown evermore frustrated in the UK, with the economy having been weak for four years now. This seems to be the reason some wealthy Brits are of the opinion that they could be happier in another country.

However, although 19 per cent may come across as a large proportion of people who would consider leaving the country, there are also 62 per cent of people who are happy with life in the UK at present. A further 15 per cent claim to be unhappy in the country.